RESOURCES FOR ORGANIZATIONAL USE:
1.  S&S Banner for your website, Facebook page; digital communications, etc:
Download link for PNG file – click HERE.   Use hyperlink:  www.switchandsupport.org/him.
You can see an example of how this can be added to your Donate page at www.medicalmobilizers.org/donate.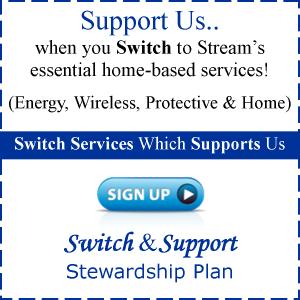 2.  PROMOTIONAL CARD for handouts / promotion:  Here is a customized 4.25″ x 5.5″ card to give to everyone in your organization to promote this funding plan.  Click HERE  for a pdf to print and cut to produce these promotional flyers (requires only two cuts).  For credibility and effectiveness, anyone promoting these services should be satisfied Stream customers if possible.